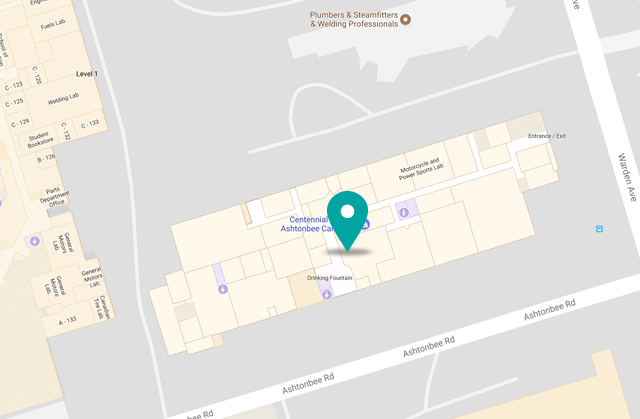 Room L-202
75 Ashtonbee Road
Toronto Ontario
Canada
M1L 4N4
View Directions
Ashtonbee Library Fall 2023 Semester Hours
September 5 - December 15
| | |
| --- | --- |
| Monday - Friday | 8:00am - 7:00pm |
| Saturday | 11:00am - 3:00pm |
| Sunday | CLOSED |
Closures
The Library and Learning Centre will be closed on Sept 4 & 30, Oct 9, Dec 25 -Jan 1.
Ashtonbee is home to the School of Transportation and is one of the largest automotive and aircraft technology training centres in Canada.
The Ashtonbee campus is situated at 75 Ashtonbee Road in Scarborough, just west of Warden Ave. and one block north of Eglinton Ave.
The Library is located in room L-202. Go in the main entrance from the parking lot and the Library is on the second floor (take stairs or elevator.) The Library is on the left side of the hall.
By Transit
From the Warden subway station, take the Warden North 68 bus to Ashtonbee Road. Check TTC bus schedules at http://www.ttc.ca/
This Week
Library
Learning Centre
Math Drop-In
Sunday

Closed

Closed

Closed
Monday

Open

8:00 AM to 7:00 PM

Open

8:30 AM to 7:00 PM

Open

9:30 AM to 5:00 PM
Tuesday

Open

8:00 AM to 7:00 PM

Open

8:30 AM to 3:00 PM

Open

9:30 AM to 5:00 PM
Wednesday

Open

8:00 AM to 7:00 PM

Open

8:30 AM to 3:00 PM

Open

9:30 AM to 5:00 PM
Thursday

Open

8:00 AM to 7:00 PM

Open

8:30 AM to 3:00 PM

Closed
Friday

Open

8:00 AM to 3:30 PM

Open

8:30 AM to 3:00 PM

Closed
Saturday

Open

11:00 AM to 3:00 PM

Closed

Closed
Weekly Hours
Sunday

10/1/2023
Library
Closed
Learning Centre
Closed
Math Drop-In
Closed
Monday

9/25/2023
Library
Open 8:00 AM to 7:00 PM
Learning Centre
Open 8:30 AM to 7:00 PM
Math Drop-In
Open 9:30 AM to 5:00 PM
Tuesday

9/26/2023
Library
Open 8:00 AM to 7:00 PM
Learning Centre
Open 8:30 AM to 3:00 PM
Math Drop-In
Open 9:30 AM to 5:00 PM
Wednesday

9/27/2023
Library
Open 8:00 AM to 7:00 PM
Learning Centre
Open 8:30 AM to 3:00 PM
Math Drop-In
Open 9:30 AM to 5:00 PM
Thursday

9/28/2023
Library
Open 8:00 AM to 7:00 PM
Learning Centre
Open 8:30 AM to 3:00 PM
Math Drop-In
Closed
Friday

9/29/2023
Library
Open 8:00 AM to 3:30 PM
Learning Centre
Open 8:30 AM to 3:00 PM
Math Drop-In
Closed
Saturday

9/30/2023
Library
Open 11:00 AM to 3:00 PM
Learning Centre
Closed
Math Drop-In
Closed