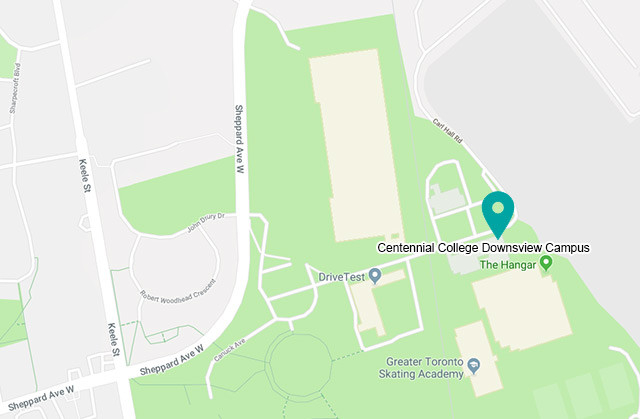 Downsview Campus is home to all Aerospace and Aviation programs.
The campus is situated at 65 Carl Hall Road in North York, just east of Keele St. and south of Sheppard Ave. West.
Library services can be accessed from a service desk inside the main entrance. There is a quiet study area down the hall from the main desk, and silent study areas in rooms 203 and 205.
By Transit
The Downsview Campus is close to the Sheppard Avenue West subway station, with the 101 Downsview bus stopping next to the campus' front entrance. Additionally, the campus is located about a 10-minute walk from the Downsview Park subway station and GO train station, using a lighted walkway that guides commuters from the station to the campus. For other transit options, check out the TTC Trip Planner.
This Week
Library
Learning Centre
Math Drop-In
Sunday

Closed

Closed

Closed
Monday

Open

8:00 AM to 7:00 PM

Online

8:30 AM to 7:00 PM

Closed
Tuesday

Open

8:00 AM to 7:00 PM

Online

8:30 AM to 7:00 PM

Closed
Wednesday

Open

8:00 AM to 7:00 PM

Online

8:30 AM to 7:00 PM

Closed
Thursday

Open

8:00 AM to 7:00 PM

Online

8:30 AM to 7:00 PM

Closed
Friday

Open

8:00 AM to 3:30 PM

Open

8:30 AM to 3:30 PM

Closed
Saturday

Closed

Closed

Closed
Weekly Hours
Sunday

12/10/2023
Library
Closed
Learning Centre
Closed
Math Drop-In
Closed
Monday

12/4/2023
Library
Open 8:00 AM to 7:00 PM
Learning Centre
Open 8:30 AM to 7:00 PM
Math Drop-In
Closed
Tuesday

12/5/2023
Library
Open 8:00 AM to 7:00 PM
Learning Centre
Open 8:30 AM to 7:00 PM
Math Drop-In
Closed
Wednesday

12/6/2023
Library
Open 8:00 AM to 7:00 PM
Learning Centre
Open 8:30 AM to 7:00 PM
Math Drop-In
Closed
Thursday

12/7/2023
Library
Open 8:00 AM to 7:00 PM
Learning Centre
Open 8:30 AM to 7:00 PM
Math Drop-In
Closed
Friday

12/8/2023
Library
Open 8:00 AM to 3:30 PM
Learning Centre
Open 8:30 AM to 3:30 PM
Math Drop-In
Closed
Saturday

12/9/2023
Library
Closed
Learning Centre
Closed
Math Drop-In
Closed