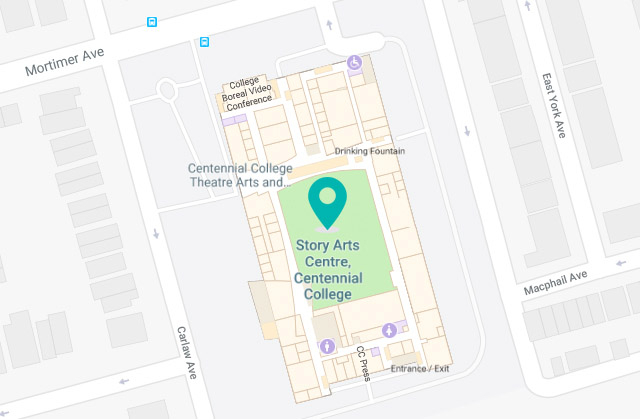 The Story Arts Centre is a cutting-edge campus for the arts, and the perfect place to tap into your creativity. Housing the School of Communications, Media, Arts and Design, it has everything you need to let your inner genius out.
The Story Arts Centre campus is situated at 951 Carlaw Avenue in East York, approximately five blocks north of Danforth Avenue and one block west of Pape Avenue. The Library is located in Room 109. Go in the main entrance on Carlaw Avenue and turn right at the Security/Information Desk. The Library is on the right side of the hall before you get to the Student Association lounge.
By Transit
From Broadview TTC subway station, take the Mortimer 62 bus right to the campus (at Carlaw and Mortimer). From Pape TTC station, take the 25 Don Mills or the 81 Thorncliffe Park bus to Mortimer Avenue and walk one block west to Carlaw Avenue. Otherwise, it's a 10 minute walk north on Pape Avenue from the Pape TTC subway station. Check TTC bus schedules at http://www.ttc.ca/.
This Week
Library
Learning Centre
Math Drop-In Online
Sunday

Closed

Closed

Closed
Monday

Open

8:00 AM to 7:00 PM

Open

8:00 AM to 7:00 PM

Closed
Tuesday

Open

8:00 AM to 7:00 PM

Open

8:00 AM to 7:00 PM

Closed
Wednesday

Open

8:00 AM to 7:00 PM

Open

8:00 AM to 7:00 PM

Closed
Thursday

Open

8:00 AM to 7:00 PM

Open

8:00 AM to 7:00 PM

Closed
Friday

Open

8:00 AM to 3:30 PM

Open

8:30 AM to 3:30 PM

Closed
Saturday

Closed

Closed

Closed
Weekly Hours
Sunday

12/10/2023
Library
Closed
Learning Centre
Closed
Math Drop-In Online
Closed
Monday

12/4/2023
Library
Open 8:00 AM to 7:00 PM
Learning Centre
Open 8:00 AM to 7:00 PM
Math Drop-In Online
Closed
Tuesday

12/5/2023
Library
Open 8:00 AM to 7:00 PM
Learning Centre
Open 8:00 AM to 7:00 PM
Math Drop-In Online
Closed
Wednesday

12/6/2023
Library
Open 8:00 AM to 7:00 PM
Learning Centre
Open 8:00 AM to 7:00 PM
Math Drop-In Online
Closed
Thursday

12/7/2023
Library
Open 8:00 AM to 7:00 PM
Learning Centre
Open 8:00 AM to 7:00 PM
Math Drop-In Online
Closed
Friday

12/8/2023
Library
Open 8:00 AM to 3:30 PM
Learning Centre
Open 8:30 AM to 3:30 PM
Math Drop-In Online
Closed
Saturday

12/9/2023
Library
Closed
Learning Centre
Closed
Math Drop-In Online
Closed