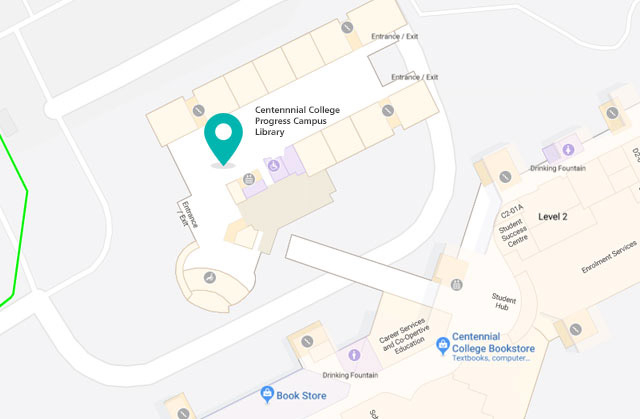 Room L3-06
941 Progress Avenue
Toronto Ontario
Canada
M1G 3T8
View Directions
Progress Library Winter 2023 Semester Hours
January 9 - April 23
| | |
| --- | --- |
| Monday - Thursday | 8:00 - 10:00 |
| Friday | 8:00 - 7:00 |
| Saturday & Sunday | 10:00 - 4:00 |
Engagement Week Hours
February 21 - 26
| | |
| --- | --- |
| Tuesday, Thursday, and Friday | 8:00 - 7:00 |
| Saturday & Sunday | 10:00 - 4:00 |
April 24 - 30
Monday - Friday
11:30 - 4:00
The Library will be closed on February 20, 22 and April 7.
Progress is home to the Schools of Business and Hospitality, Tourism and Culinary Arts. Here you'll also find Advanced Manufacturing and Automation Engineering Technology programs, as well as many Child Studies and Community Service programs.
The Progress campus is situated at 941 Progress Avenue in Scarborough, slightly east of Markham Road and just south of Highway 401. The Library is located in the Library and Academic Facility (L block), which is the main entrance to the campus.
From inside the College go to the Student Hub, located on the second floor . Walk across the enclosed pedestrian footbridge to the Library and Academic Facility. From there you may take the stairs or elevator to the third floor.
By Transit
You have two options:
From Warden TTC subway station, take the Markham 102A or 902 bus to the campus.
From Scarborough Town Centre RT station, take the Progress 134C or 134D, or 913 bus to the campus.
Check bus schedules at http://www.ttc.ca/.
This Week
Library
Learning Centre
Math Drop-In
Sunday

Open

10:00 AM to 4:00 PM

Closed

Closed
Monday

Open

8:00 AM to 10:00 PM

Open

8:30 AM to 7:00 PM

Open

9:30 AM to 5:00 PM
Tuesday

Open

8:00 AM to 10:00 PM

Open

8:30 AM to 7:00 PM

Open

9:30 AM to 5:00 PM
Wednesday

Open

8:00 AM to 10:00 PM

Open

8:30 AM to 7:00 PM

Open

9:30 AM to 5:00 PM
Thursday

Open

8:00 AM to 10:00 PM

Open

8:30 AM to 7:00 PM

Open

9:30 AM to 5:00 PM
Friday

Open

8:00 AM to 7:00 PM

Open

8:30 AM to 3:30 PM

Open

9:30 AM to 5:00 PM
Saturday

Open

10:00 AM to 4:00 PM

Closed

Closed
Weekly Hours
Sunday

2/12/2023
Library
Open 10:00 AM to 4:00 PM
Learning Centre
Closed
Math Drop-In
Closed
Monday

2/6/2023
Library
Open 8:00 AM to 10:00 PM
Learning Centre
Open 8:30 AM to 7:00 PM
Math Drop-In
Open 9:30 AM to 5:00 PM
Tuesday

2/7/2023
Library
Open 8:00 AM to 10:00 PM
Learning Centre
Open 8:30 AM to 7:00 PM
Math Drop-In
Open 9:30 AM to 5:00 PM
Wednesday

2/8/2023
Library
Open 8:00 AM to 10:00 PM
Learning Centre
Open 8:30 AM to 7:00 PM
Math Drop-In
Open 9:30 AM to 5:00 PM
Thursday

2/9/2023
Library
Open 8:00 AM to 10:00 PM
Learning Centre
Open 8:30 AM to 7:00 PM
Math Drop-In
Open 9:30 AM to 5:00 PM
Friday

2/10/2023
Library
Open 8:00 AM to 7:00 PM
Learning Centre
Open 8:30 AM to 3:30 PM
Math Drop-In
Open 9:30 AM to 5:00 PM
Saturday

2/11/2023
Library
Open 10:00 AM to 4:00 PM
Learning Centre
Closed
Math Drop-In
Closed